Kitchen is the most heavily used area in your home. This is what wakes you up in the morning to prepare and cook your family's breakfast and other meals for the rest of the day. Whether you have a small or luxury kitchen with walk-in pantry, it doesn't matter. What matters is how you organize and upkeep your kitchen. Food preparation needs your full attention and presence so it is important for every utensils and ingredients to be of reach. For this to be possible, have a place for everything and keep everything in their places. Below are storage ideas that will make your life in the kitchen easier
This base pantry is perfect for small kitchen. It is functional and helps to maximize the storage space.
Use drawer dividers then group your utensils together to keep them organized.
If you want easy access to spices while cooking and your kitchen is tight on space, this is perfect!
Custom slide-out drawers to help you store and sort your pots, pans or your entire cookware collection.
Utilize the space under your sink. Have a pull-out sink cupboard where you can keep your cleaning supplies.
Open shelves in a corner of your kitchen can be a one-area storage, enough to accommodate and organize everything.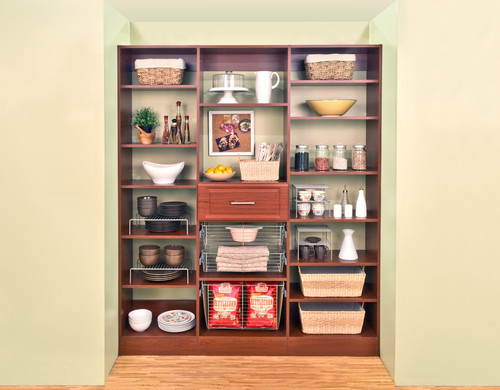 Or, just label and organize everything in the cabinets that you already have.
These kitchen storage ideas are not just ideal for big kitchens. It can also help to make the most out of a small kitchen. What makes a kitchen great is how it is being kept and organized. Revamp your kitchen with these space-saving kitchen storage ideas.